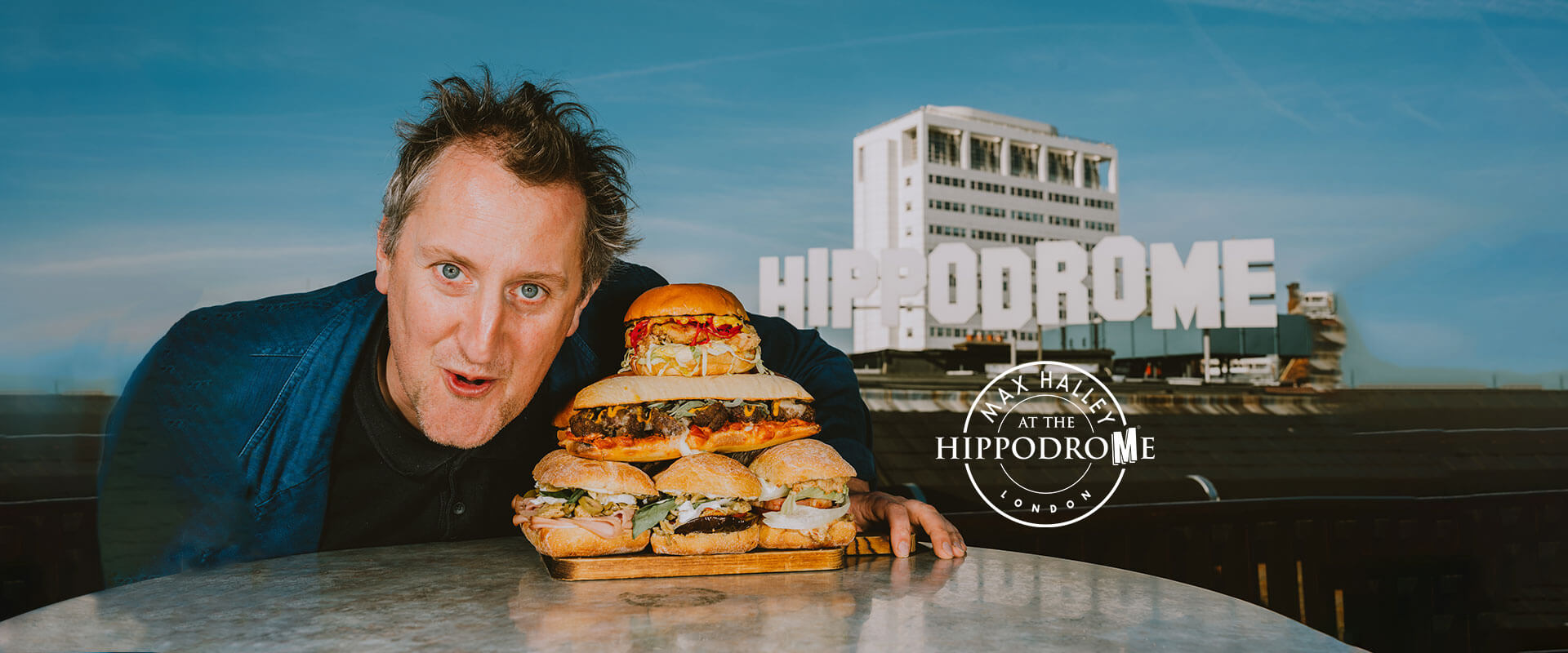 Max Halley at the Hippodrome
THE KING OF SANDWICHES ARRIVES AT LONDON'S HIPPODROME
The Hippodrome will be the only venue outside of Max's North London Sandwich Shop where customers can enjoy Max's sandwich perfection. Max's menu will comprise six stacked sandwiches and playful reimaginings of classic casino fare, elevating humble ingredients to decadent new heights.
This unique partnership brings to life the alleged origins of the first sandwich, which suggests that the 4th Earl of Sandwich was playing cards and did not want to leave the gaming table to eat. So, he asked for a serving of roast beef to be placed between two slices of bread so he could eat with his hands, and thus, the first sandwich was born.
Visitors to The Hippodrome will be pleased to find many more exciting options available on Max's menu, from retro classics to deli favourites.
The full menu will include:
Two Straight Up Deli Classics (ciabatta)
Veggie: grilled artichokes & aubergines, sunblushed tomatoes, burrata, lemon zest, chopped green olives, basil & truf le mayo – 1160 kcal
Meaty: Mortadella, cooked ham, artichokes, burrata, basil, lemon zest, chopped green olives & truf le mayo – 1006 kcal
Bacon Chop BLT (panini roll)
A grilled bacon chop, lettuce wedge, marinated tomatoes, smoky bacon & jalapeno mayo 507kcal
Meatball Bonanza (panini roll)
USDA meatballs, tomato sauce, creme fraiche, oregano, mozzarella & American mustard 711kcal
Prawn Cocktail Please (brioche)
Prawns in marie rose, shredded lettuce, avocado, cucumber, crushed prawn cocktail crisps 356kcal
A Fried Coronation Chicken Sandwich (brioche)
Buttermilk fried chicken, lime pickled onions, nigella seeds, iceberg lettuce, coronation sauce 1122kcal
Max Halley at the Hippodrome will be available from 10:00am – 5:00am, 7 days a week. The menu will be served throughout the building.
https://www.maxssandwichshop.com/