Hippodrome History
Lola's Underground Casino
It's fascinating to think the space you are now in was once a pool filled with 100,000 gallons of water when the theatre opened to great acclaim in January 1900. Look around you at the elliptical shape of the room.
The Hippodrome's 'aquatic entertainments' were a never-before-seen addition to London's entertainment scene and proved massively popular with the audiences of the day.
The theatre's aquatic theme even extended to the Grand Cabin Saloon, a ship's bar with walls covered in oak panelling with portals and hung with lifebelts.
The main auditorium one floor above you featured a stage and a tank 230 feet in circumference operated by hydraulic rams. It sank to a depth of eight feet in about a minute and was filled with water weighing 400 tons for shows such as 'the grand spectacular aquatic carnival' Giddy Ostend, the Hippodrome Theatre's grand opening production which featured a young Charlie Chaplin. When the tank wasn't flooded for the annual spectacle, it could be used for demonstrations of swimming and diving.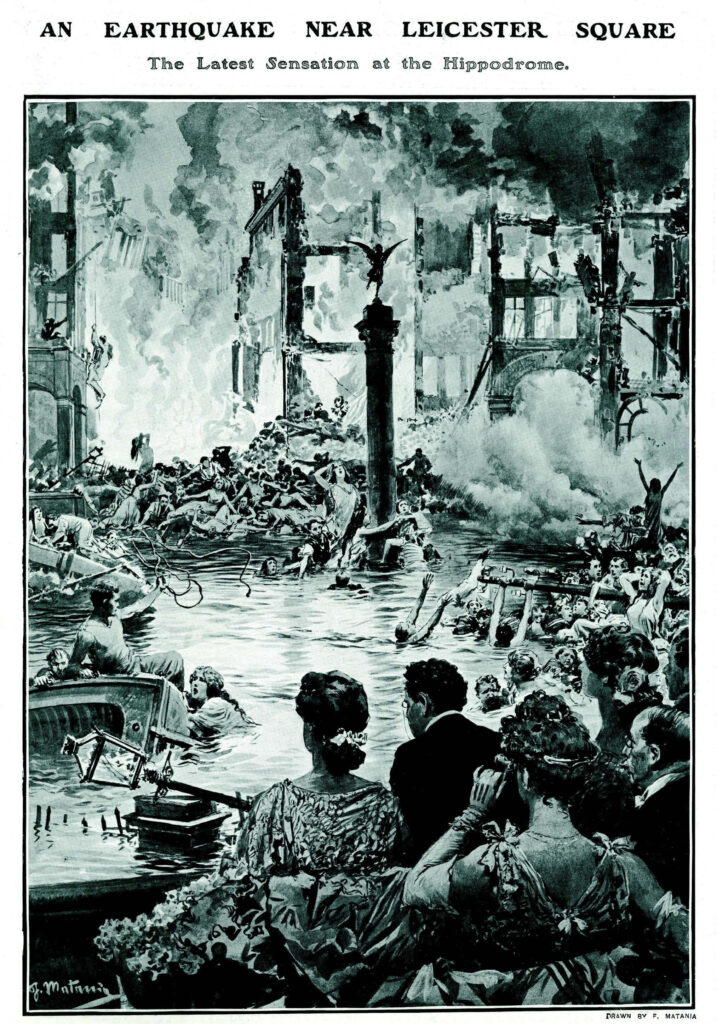 "The Earthquake" by Fortunino Matania (Sphere magazine) provides a good impression of the dramatic spectacles that could've been found at the London Hippodrome, with audience members merely feet away from the aquatic action.
Over ten years a variety of increasingly sensational aquatic spectacles drew audiences to the Hippodrome. One year it was even turned into a skating rink.
Leading off this room is a staff corridor that used to be called the 'elephant run' where performance animals were taken after their show to stables and stalls in what is now London's Chinatown.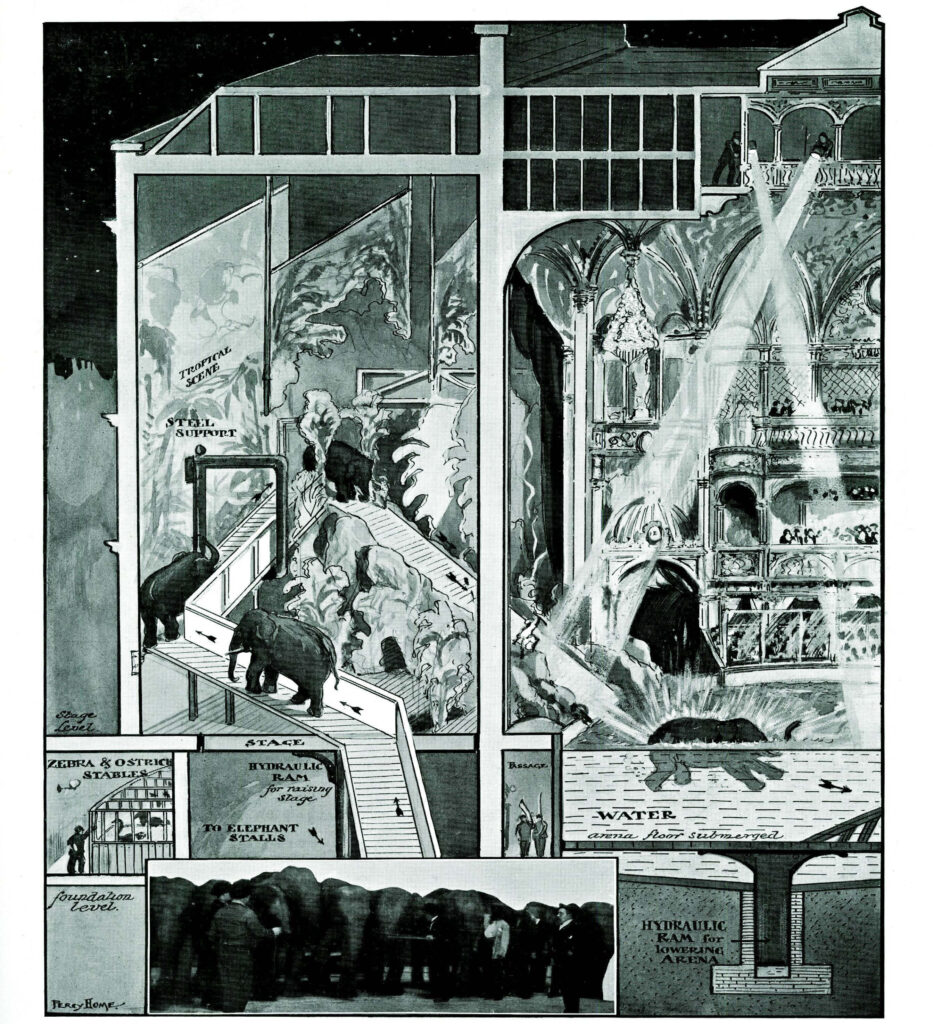 (Diagram showing a cross section of how elephants navigated the Hippodrome and slid down a slide into the water-filled arena – by Percy Home in the Sphere -1904)
Lola's underground casino is now home to Overtures, London's favourite musical singalong every Thursday from 8pm – Midnight and every Friday and Saturday from 8pm – 2am.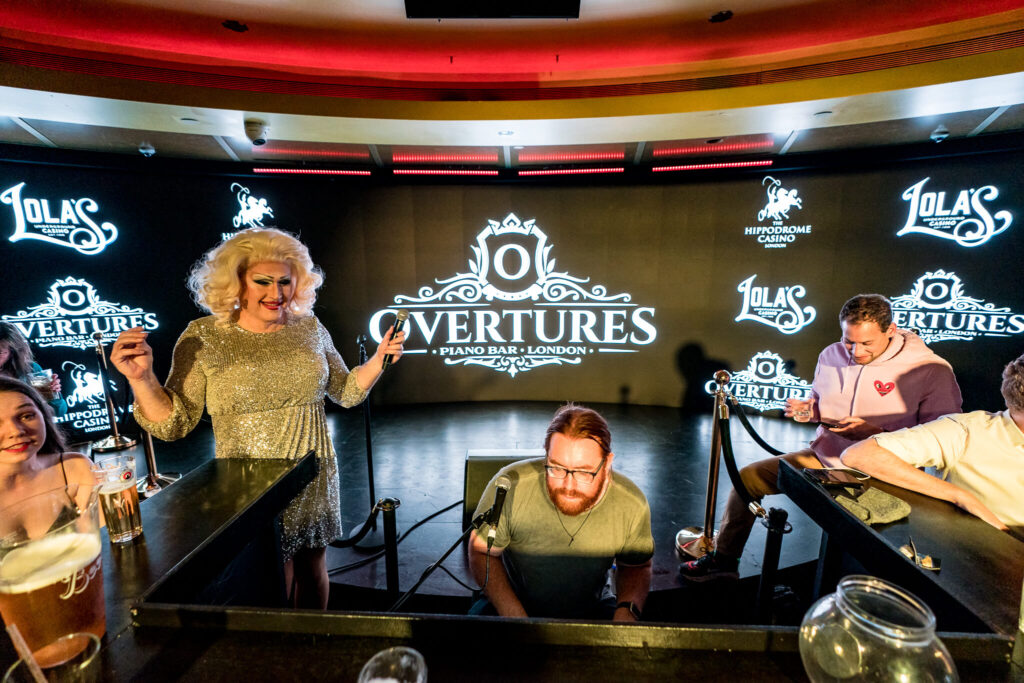 Lola's is also home to a world-beating range of electronic games and the world-famous online Lightning Roulette and Dream Catcher, exclusive to the Hippodrome.
The world-famous Lightning Roulette and Dream Catcher online games from Evolution Gaming are now available in Lola's.
Lightning roulette has up to 500x your stake multipliers, with Dream Catcher up to 7x your stake.
Open at 6pm – 4am during the week, and 12pm – 4am on weekends.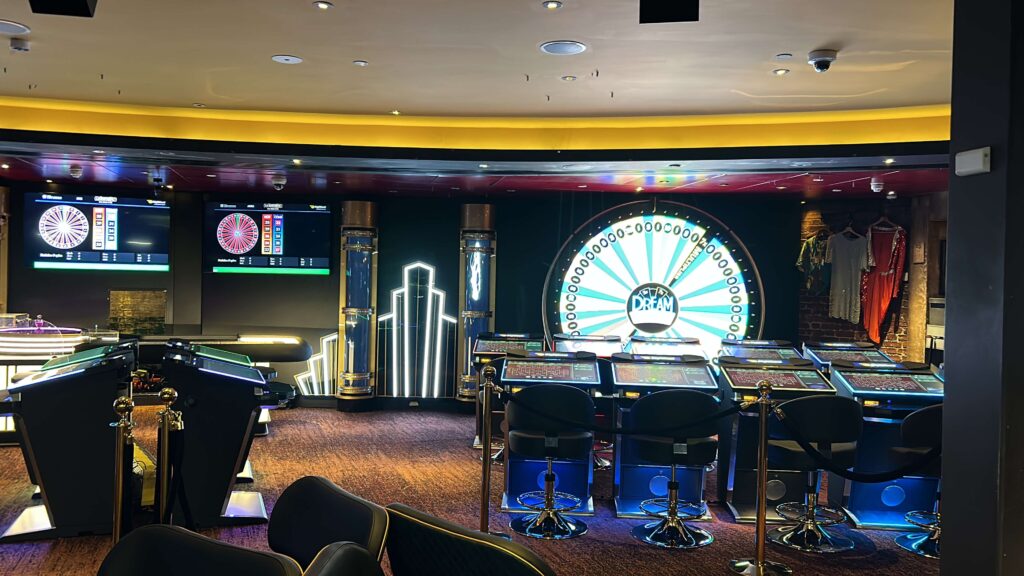 More Hippodrome History