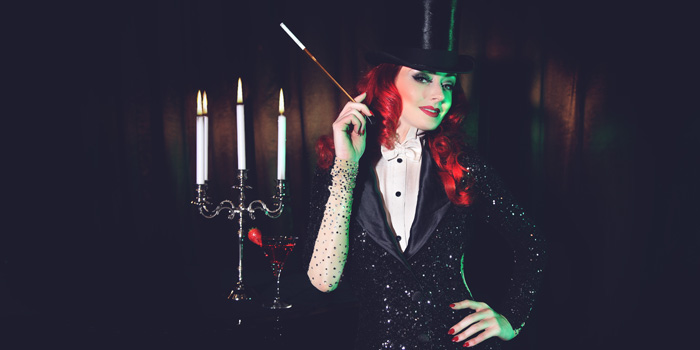 The Soho Burlesque – Halloween Special
Saturday 31st October | 11pm | TICKETS from £15
This event took place at 11:00PM on 31st October 2015.
Find out what else The Hippodrome Casino has on offer.
What's On
Miss Polly Rae presents a night of vivacious vamp(ire)s, ferocious freaks and naughty creatures of the night. Bringing you the usual dose of the sexiest burlesque, cabaret and circus, come and celebrate All Hallow's Eve with us and be thrust deep into the dark, devilishly debauched and divine boudoir of ghoulish girls and beastly boys.
PRIZE FOR BEST DRESSED!
FEATURING
Morticia – Betsie Bon Bon
Betsie pays tribute to the sexiest icon of the underworld.
With over 6 years' experience, Bettsie is an award-winning vixen, known as 'the body; of the burlesque world. This is one bump and grinding showgirl, full of glamour, class and sass.
Lilly SnatchDragon - Gogo
Tarantino fans delight! Lilly will be the infamous blood thirsty school girl complete with meteor hammer!
Fierce, ferocious and controversial, Lilly loves nothing more that being scary and lary when she takes to the stage.
Beau Rocks – Ghost Of Marie
Think Parisian chic meets gothic freak.
Beau is reminiscent of a Vargas pin-up girl an unmistakably naughty sparkle in her eye. Don't let her angelic features fool you – she's more devilish than you think.
The Clown – Andromeda Circus
Marvel at the astonishing art of fire performance as the mesmeric Andromeda Circus becomes a terrifying clown.
Performing a wide range of circus acts including aerial dance, fire breathing, angle grinding and stilt walking. Andromeda is a multi-skilled Circus Performer, a dazzling and colourful artist.
Bill – Hugo Desmararis
In True Blood style, Hugo is going to do bad things with you!
Featured in Cirque Du Soleil's exotic show Zumanity with his own special creation, the Aerial Cage. An exquisite display of rare passion and intensity, Hugo is guaranteed to send a shiver down your spine.
Back